Main content starts here, tab to start navigating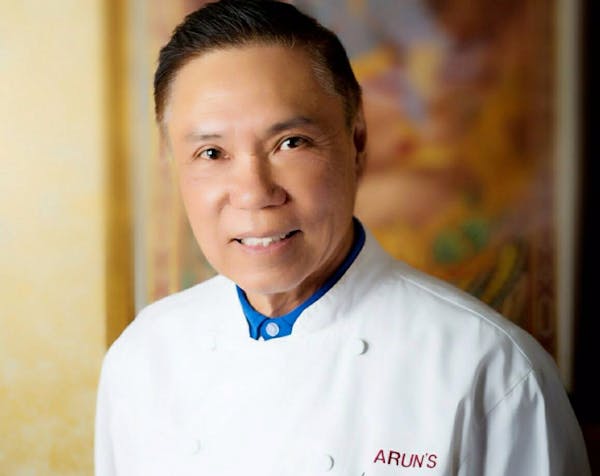 Arun Sampanthavitat
Chef/Partner
As executive chef of Arun's, Arun Sampanthavivat directs all day-to-day operations and sets long-term goals for his restaurant. His responsibilities include recipe creation and menu development, staff training on an individual and collective basis, and customer relations. Although Arun did not plan on a restaurant career, various events in his like have led to his present status as one of Chicago's most celebrated restaurateurs.
Born and raised in Trang, a southern province in Thailand, Arun grew up on his parents' rubber plantation with his eight brothers and sisters. Arun attended the distinguished Chulalongkorn University and graduates with a degree in literature and foreign languages. Further studies took Arun to Germany where he attended the INstitute of Languages in Hamburg, and later, to Japan, where he earned a Master's Degree in InternationalRelations at Sophia International University.
From Tokyo, Arun traveled to the United States to continue his academic career at the University of Chicago, where he received a Master's Degree in Political Science. In 1985, while working toward a doctorate in Asian affairs, Arun was asked by friends to collaborate on a joint restaurant venture. Arun accepted the challenge. However, just before the restaurant was to open, his friends abandoned the project--leavingArun on his own. And so, the idealistic scholar became a working restaurateur. He had no formal training as a chef, but his experience of student cafeterias had driven him to learn to cook for himself and his friends. That experience, and his knowledge of Thai cuisine, helped him create Thai dishes that satisfied his own demanding tastes and those of his customers.
With the discipline of an academic, Arun designed the restaurant's interior, created an imaginative menu, further developed his intuitive flair for cooking, purchased the food, greeted guests, waited on tables, and balanced the books. This valuable hands-on experience taught him all aspects of the food service business.
Arun's original Thai restaurant on Irving Park Road was such a success that he relocated to larger quarters on North Kedzie in 1988. His initial success encouraged him to continually refine and recreate his cuisine. Arun continues to own and operate Arun's Thai Restaurant, which has been acclaimed locally and nationally for its exquisite setting and sophisticated Thai cuisine. Arun has recently added a private dining area, and completed renovations of the main dining area.
In spare moments, Arun enjoys designing the layout, furnishings and decorative motifs of the restaurant. For relaxation, he composes Thai poetry.